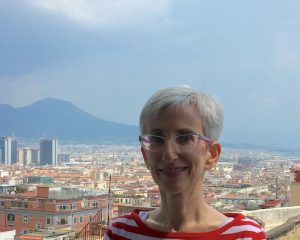 Associate Professor, European Medieval History
E-mail: sakellariou[at]uoc[dot]gr
Office No.: 33
Telephone: 0030 28310-77354
Office hours: 
Extended CV: Click here
Short CV
Eleni Sakellariou studied History at the Department of History and Archaeology of the University of Athens, and Medieval History at the History Faculty of Cambridge University (UK), where she obtained her M.Phil. and Ph.D. under the supervision of David Abulafia in 1992 and 1996 respectively. During her postgraduate studies in Cambridge, she received funding from the British Academy, the British School at Rome, the Royal Historical Society, the Cambridge Historical Society and the Ellen McArthur Fund of Cambridge University. She teaches European Medieval History since 1999 (at the University of Ioannina in 1999-2006, and at the Department of History and Archaeology of the University of Crete since 2006). She was a Visiting Fellow at Wolfson College Cambridge in 2003 and a Visiting Professor at the Department of History of the University of Sassari (Italy) in 2016, and at the Faculty of Human Sciences and Education of the University Suor Orsola Benincasa of Naples (2019). 
Research Interests: 
Her research interests include the economic, social and institutional history of the Mediterranean in the late Middle Ages, with special emphasis on southern Italy; new interpretations of the late Middle Ages and the transition to the Early Modern Period in the Mediterranean and in Europe; rural society between crisis and restructuring; the interaction between international and regional trade and its impact on economic change; urban history, particularly the history of small towns; history of credit, particularly of micro-credit to artisans and peasants; prosopography and collective biography as a method for the reconstruction of past societies; the Italian presence in the Eastern Mediterranean after the Fourth Crusade. She has conducted research in the State Archives of Naples, L'Aquila, Rome and Benevento, the Archivo de la Corona de Aragòn (Barcelona), the Archivo General de Simancas (Valladolid), the departments of Manuscripts and Rare Books of the British Library, Cambridge University Library, the National Libraries of Rome and Naples, the Biblioteca Capitolare and the Museo del Sannio at Benevento, as well as the Vikelaia Municipal Library of Herakleion. She participates in international research projects and has published a monograph and various articles in scientific journals and volumes of collected essays.