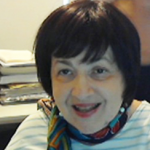 Extended CV: Click here
Born in Athens, 1952
Studies:
BA in History and Archaeology, University of Athens.
MA in the Social History of the Middle Ages, University of Birmingham, UK.
Ph.D (Birmingham). Thesis on aspects of the economic and social history of the island of Naxos in the 17th century, based on notarial documents.
Research and professional posts:
1983-1984 Research assistant, Centre of Byzantine Studies, University of Birmingham
1991-1998 Honorary Research Fellow, Department of History, University of Aberdeen (Scotland)
1994, 1995 Research fellow, Special Collections, University of Aberdeen. Cataloguing the papers of the Scottish Philhellene Thomas Gordon (1788-1841)
1994-1997 Three terms as a temporary lecturer in the Department of History and Archaeology, University of Crete
1998-8/2019 Lecturer, Assistant, Associate Professor and Professor of Medieval (Western) History, University of Crete
Teaching experience:
1976-1985 Occasional teaching of Modern Greek language and translation and Modern Greek history, University of Birmingham (Centre of Byzantine, Ottoman and Modern Greek Studies). 
1989-1995 Occasional teaching of Medieval History and peasant studies, University of Aberdeen (Department of History).
1994-8/2019 Teaching History of the Medieval West at the Department of History, University of Crete
Research experience:
I have conducted archival searches in various Greek archives, as well as in Rome, Venice, the British Library and the manuscript collection of the Aberdeen University Library where I catalogued the papers of the Scottish philhellene Thomas Gordon (1788-1841). See publications
In charge (2001-2011) under the auspices of the Institute of Mediterranean Studies (Rethymno) I have been in charge of a project connected with notarial documents called 'Greek marriage contracts, 1500-1830: A contribution to the study of systems of the transmission of property between generations and the structure of the Greek family'. See http://weddings.ims.forth.gr/index.php?l=1
Finally, I am involved in the translation of historical and other studies from English into Greek.
Ιnternational conferences: Communications – Organization:
Since 1982 I have spoken in conferences both in Greece and abroad (U.K., France, Spain, Denmark, U.S.A., Germany, Turkey).
I was in charge of organizing an international conference, entitled 'Gender, family and property in legal theory and practice: the European perspective from 10th-20th century'. It was the fourth conference organized by members of the research network Gender Difference in the History of European Legal Cultures. Venue at Rethymno, 21-23 September 2006, under the auspices of the Department of History & Archaeology, University of Crete and the Institute of the Mediterranean Studies.
Research interests: Comparative and interdisciplinary approaches to various aspects of economic and social history, concerning both Western Europe and the Greek world during the medieval and early modern period. Special interest in agrarian history, inheritance systems and the history of the family.
Publications (selection):
'Dowry, or on the hunting life of the Modern Greeks by Nora Skouteri-Didaskalou' (review article) / «'Η προίκα ή περί του θηρευτικού βίου των Νεοελλήνων' της Νόρας Σκουτέρη-Διδασκάλου (κριτικό άρθρο), O Politis, issue 71, 1986: 96-100
'Peasant and Lord in Fifteenth-Century Naxos', Byzantinischen Forschugen 11, 1987: 347-55
'A notary of Naxos at the end of the 17th century' / «Ένας νοτάριος στη Νάξο στα τέλη του IZ'αιώνα», in 'A day…' Fifteen stories of daily life / «Μια μέρα…» Δεκαπέντε ιστορίες καθημερινότητας, Athens 1988 : 171-99
'Gender Differentiation and Social Practice: The Case of Seventeenth-Century Naxos', in The Byzantine Tradition After the Fall of Constantinople, ed. J.J. Yiannias, University of Virginia Press, Charlottesville and London 1991: 61- 94. Also translated in Greek, Athens 1994
'El papel de las mujeres en Bizancio / Gender Relations in the Byzantine World', Ijas de Afrodita. La sexualidad femenina en los pueblos del Mediterràneo, A. Perez Jiménes and G. Cruz Andreotti, Madrid 1995: 171-98
'Serf'/ «Δουλοπάροικος»: entry in the Ekpaideftiki Elliniki Engyklopaideia (Educational Greek Encyclopaedia), vol. 22 (Philosophy and Social Sciences, Athens 1997
'Dowry and Inheritance in 17th-Century Naxos', Mélanges de l' École Française de Rome. Italie et Méditerranée 110/1. Nécessités économiques et pratiques juridiques : Problèmes de la transmission des exploitations agricoles (XVIIIe-XXe siècles), Milan 1994, ed. École Française de Rome, Rome 1998: 211-16
'Poor and rich in 17th-century Naxos : attitudes, behaviour and reality' in International Symposium: Rich and Poor in the society of the Greco-Latin East, ed. C. Maltezou, 1998: 109-116
Land and Marriage Settlements in the Aegean: A Case-Study of Seventeenth-Century Naxos, Institute of Byzantine and Post-Byzantine Studies, Venice 1999, 467 pp.
'Marriage prestations in Venetian Crete and elsewhere: a first reading of Cretan marriage contracts of the late Venetian period', Acts of the 8th International Cretologic Conference, Irakleio 2000, vol. II1: 321-332
'The colourful tesserae of the published notarial documents and the laborious process of reconstructing the mosaic: contracts of land exploitation in Crete of the late Venetian period', N.M. Panayotakis- In memoriam, Irakleio 2000: 311-322
'Geographical mobility in 17th-century Naxos', Acts of the Second Conference Naxos through the Centuries, Athens 2003.
'Literacy and education in the Aegean during the "dark" seventeenth century. A first approach to the evidence of the notarial documents', Greece of the islands from the Frankish period to today, vol. II, Athens 2004, 535-548
'Family and inheritance in the Cyclades 1500-1800: Present knowledge and unanswered questions', Journal of Family History 9, 3, 2004: 257-274
'Dowry and inheritance, Gender and Empowerment in the "Notarial Societies" of the Early Modern Greek World', Conference on the theme Less favoured – more favoured in law and legal practice: Gender, power and authority, 12th – 19th centuries, organised by members of the electronic sight Gender in European Legal History, 12th – 19th centuries, Copenhagen 27-29 September 2004.
'Sexe et parenté dans les îles de l'Égée (1500-1800): Le témoignage des actes notariés', Acts of conference on Parenté et société dans le monde grec de l'antiquité à l'âge moderne, A. Bresson, M.-P. Masson, S. Perentidis και J. Wilgaux eds., Ausonius- Études, Bordeaux 2006, pp. 327-334
'Notarial acts as sources for social and cultural history: the Greek world under Venetian rule' in Interdisciplinary Conference Unlocking the potential of texts: interdisciplinary perspectives on Medieval Greek, Centre for Research in the Arts, Social Sciences and Humanities, University of Cambridge, 18-19 July 2006, at http://www.mml.cam.ac.uk/sites/www.mml.cam.ac.uk/files/kasdagli.pdf
'Notarial archives concerning the Greek world: a chaotic and vastly unexplored wealth', L'Homme. Europaeische Zeitschrift fuer Feministische Geschichtswissenschaft, 17, 2, 2006, 141-144
'Notarial Documents as a Source for Agrarian History', in Davies S. and J.L.Davis, (eds.). Between Venice and Istanbul: Colonial Landscapes in Early Modern Greece, The American School of Cassical Studies at Athens, 2007: 55-70
«Συλλογική μνήμη και κοινωνική πραγματικότητα. Οι αρχοντικές οικογένειες της Νάξου μετά την πτώση του δουκάτου» / 'Memoria collettiva e realtà sociale. Le famiglie nobili di Nasso dopo la caduta del ducato', ['Collective memory and social reality: The noble families of Naxos after the fall of the duchy'], in Το δουκάτο του Αιγαίου, [The duchy of the Archipelago], Πρακτικά Επιστημονικής Συνάντησης / Il ducato dell' Egeo, Atti dell' Incontro di Studio, Ακαδημία Αθηνών – Εθνικό Ίδρυμα Ερευνών / Academia di Atene / IBE– Fondazione Nazionale delle Ricerche / IBE, Athens: 447-454
'Custom and law in the early modern Aegean islands: the case of marriage payments', Karin Gottschalk (ed.). 2013, Gender Difference in European Legal Cultures. Historical  Perspectives. Dedicated to Heide Wunder on the occasion of her 70th birthday. Stuttgart, Franz Steiner Verlag.
«Λόγος περί νοταριακών και μια ανάγνωση διαθηκών του 16ου αιώνα από την Κρήτη» / 'A discourse about notarial documents and a reading of 16th–century wills from Crete', Ε.Μ.Ν.Ε. Μnemon, vol. 35, 2016, 43-62
'Custom, Tradition and "The Law" in the Post-Medieval Cyclades', ch.3 in Imperial Lineages and Legacies in the Eastern Mediterranean – Recording the Imprint of Roman, Byzantine and Ottoman Rule, ed. Rhoads Murphy, Farnham (U.K.): Ashgate Publishing, 2017, 49-60
2019. 'Medieval History and Marxism in England, 1950–1956', Past & Present, vol. 242, issue 1, Feb. 2019, electronic pp. e1–e43
'Living near the Thera volcano, 1650-51 A.D. Zero hour…but history continues'], in Αέλλοπος: Festschrift for Iris Tzahili, Rethymno, I.L.E.R. [forthcoming]
Other publications:
'Descriptive List of the letters and papers of Thomas Gordon 1800-1841 and supplementary papers and other material, 1841-1984'. MS 1160/19-26, Aberdeen University Library, Aberdeen 1995, 148 pp. See here
'The papers of Thomas Gordon of Cairness (1788-1841)' (Reports and Archives in Northern Scotland), Northern Scotland 14 (1994): 109-114
'A brief biography of Andreas Mioulis by his son: pages from the papers of Thomas Gordon', Mnemon 17, 1995: 163-74
'Exploring the papers of the Scottish philhellene Thomas Gordon (1788-1841)', Κάμπος, Cambridge Papers in Modern Greek 3, 1995: 45-69
'"As you know me, I am plain Makriyannis". An unknown letter by General Maktiyannis (1827)', Ekevolos 18, 1997: 1820-1828
'Reports from Grambusa: pages from Thomas Gordon's papers', Kritologika Grammata 1999: 211-234
'Philhellenes', entry in the Encyclopedia of Greece and the Hellenic Tradition, ed. Graham Speake, Fitzroy Dearborn Publishers, London and Chicago 2000, vol. 2: 1298-1300
Introduction to the Greek translation (by A. Papadiamantis) of The History of the Greek Revolution by Thomas Gordon, vol. I, Μ.Ι.Ε.Τ., Athens