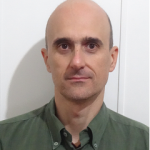 Associate Professor of Ottoman History
E-mail: anastasopoulos[at]uoc[dot]gr
Office No.: 78
Telephone: (+30) 2831077368
Office hours: Mondays, 10.00-11.30; Tuesdays, 11.30-13.00
Extended CV: Click here
Antonis Anastassopoulos was born in Athens in 1969. He studied History and Archaeology at the National and Kapodistrian University of Athens. He completed his M.Phil. and doctoral studies at the University of Cambridge, Faculty of Oriental Studies. He has been teaching Ottoman history at the Department of History and Archeology of the University of Crete since 1999, and is also affiliated with the Institute for Mediterranean Studies of the Foundation for Research and Technology-Hellas. In January 2010 he taught a cycle of four seminars at the École Pratique des Hautes Études, Section des Sciences Historiques et Philologiques, in Paris, and in the spring semester of the academic year 2015-2016 he taught Greek and Balkan History at the Department of History of the Boğaziçi University in Istanbul. He has edited or co-edited five volumes of collected essays, and has published more than 30 articles in academic journals, collective volumes and encyclopaedias.
Research interests: Τhe Ottoman provinces with an emphasis on political relations in the eighteenth century; Islamic tombstones of the Ottoman period; history of water management.
Links: 
Recent publications:
Antonis Anastasopoulos, 'Karaferye (Veroia)', in Kate Fleet et al. (eds), The Encyclopaedia of Islam Three, Part 2019-1, Leiden and Boston: Brill, 2019, 115-117 (online publication: 2018; URL: https://referenceworks.brillonline.com/entries/encyclopaedia-of-islam-3/karaferye-veroia-COM_33009).
Antonis Anastasopoulos, 'Public Celebrations and Ceremonies in the Late Ottoman Cretan Press: Building a Collective Identity among the Christian Population', in Ebru Boyar and Kate Fleet (eds), Entertainment Among the Ottomans, Leiden and Boston: Brill, 2019, 142-159.
Antonis Anastasopoulos and Christos Kyriakopoulos, 'Treating Hernias in Ottoman Crete (c. 1670–1760): The Legal Imprint of a Medical Procedure', Social History of Medicine, hkz047 (URL: https://doi.org/10.1093/shm/hkz047, published: 5 June 2019).
Antonis Anastasopoulos, Stefanos Poulios, Yannis Spyropoulos, 'The Spread of Çiftliks (Large Estates) in the Eighteenth-Century Ottoman Balkans: The Case of the District of Veroia', in Dumitru-Cătălin Rogojanu and Gherghina Boda (eds.), Istorie, Cultură şi Cercetare Vol. III / History, Culture and Research Vol. III, Târgovişte: Cetatea de Scaun, 2019, 90-109.
Antonis Anastasopoulos, 'Notables musulmans et chrétiens dans les Balkans du xviiie siècle: Attestation (temessük) d'affermage du çiftlik de Ramiz Efendi à Rabsomanik au kocabaşı Stamatis', in Elisabetta Borromeo and Nicolas Vatin (eds), Les Ottomans par eux-mêmes, Paris: Les Belles Lettres, 2020, 391-396.