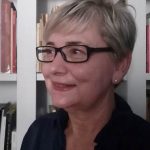 Assistant Professor, Art History from Renaissance to Romanticism
E-mail: kornezou[at]uoc[dot]gr
Office No.: 63
Telephone: 0030 2831077363
Student consultation hours: Tuesday 16.00-17.00, Thursday 10.00-11.00. During these hours Dr Kornezou will be available online through the TEAMS programme; students will have to log in to TEAMS, using their university username and password, and call her to discuss any relevant issue.
Extended CV: Click here
Born in Athens, Titina Kornezou received her BA and MA in Art History at the University Rennes II in France. In 2004 she received her PhD in Art History from the Faculty of Letters of the University of Crete. Since 2004 she has been teaching History of Western Art at the Department of History and Archaeology of the University of Crete, where she was appointed lecturer in 2009 and Assistant Professor in October 2014. She is a founding member of the Association of Greek Art Historians (Ε.Ε.Ι.Τ), member of the Board (since 2013) and she has been member of the editorial board of the academic journal Istoria tis Technis from 2013 to 2015.
Research interests: Her research interests are focused on European art from 16th to 18th centuries and particularly French painting, art theory and historiography of 17th and 18th centuries, and the artistic institutions of the same period.
Links: