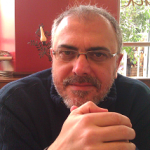 Professor of Classical Archaeology
E-mail: bosnakis[at]uoc[dot]gr
Office No.: 36
Telephone: 28310 77352
Office hours: Every Thursday 5.00-6.30 pm and every Friday 4.00-5.00 pm
Extended CV: Click here
Dimitrios Bosnakis was born in Volos in 1962.
Studies: He studied Archaeology and History of Art at the University of Ioannina (Greece) (1980-1984) [degree with "Great Distinction"] and continued (1985-1988) his postgraduate studies at University of Basel (Archäologisches Seminar, Universität Basel – Schweiz) with a grant of the "Bundesstipendium"of Switzerland, and obtained his Ph.D. degree at University of Ioannina in 1990, under the supervision of Professor L.Marangou.
Work: From 1991 to 1993 he worked on a part time basis at The Goulandris Museum of Cycladic Art, and from 1/5 to 31/12/ 1993 as scientific editor at Publications Department of TAPA (Ministry of Culture).
Archaeological Service – Εxcavations: From 1989 to 1990 and later from 1993 to 2009 after he succeed in special exams, he worked as permanent archaeologist at the Greek Archaeological Service of Dodecanese (20th Classical Ephorate), where he conducted dozens of rescue excavations in various islands (Rhodes, Syme, Kos and Kalymnos). As chief of the Archaeological Offices of Kos and Kalymnos he worked for the declaration and protection of archaeological zones on the islands of Kos, Kalymnos and Patmos. He was also scientific supervisor in many restorations projects of monuments of Kos (e.g. Roman Odeion, Casa Romana).
Exhibitions: At the beginning of his career in the Archaeological Service (1994) he participated in the exhibition "The world of Egypt in the National Archaeological Museum"(ed. Dr. Olga Tzahou-Alexandri).
From 2000 to 2008 he was responsible and co-curator for the permanent exhibition of the new Archaeological Museum of Kalymnos.
From 2009 to 2013 he worked at the Archaeological Institute of Aegean Studies (AIAS), especially as curator for the permanent exhibition of "The Epigraphical Collection at Asclepieion of Kos".
He has also participated in various periodical exhibitions dealing with the archaeology of Kos (Beijing / China, National Archaeological Museum at Athens, Goulandris Museum of Cycladic Art at Athens) as well as co-organizer of local exhibitions with multi-media material or drawings and photographs related with monuments of Kos (Roman Odeion, Asklepieion, Casa Romana) or presenting aspects of public and everyday life in ancient Kos.
Teaching: From 1988 to 1989 he served as "Hilfsassistent" at the University of Basel  (Archäologische Fakultät der  Universität Basel / Schweiz, Prof. Rolf Stucky).
In 2009 he was elected Assistant Professor of Classical Archaeology at the History and  Archaeology Department of the University of Crete (Rethymno).  He joined the Department of History and Archaeology in Rethymno  in 2013.
At the University of Crete and Athens he has co-supervised many MA theses and Ph.D. dissertations.
He has signed ERASMUS conventions with the universities of Padova, Torino and Napoli (Orientale).
Research Interests: His research interests focus: on archaeology of death (in many different fields: burial customs, sculpture, iconography and epigraphy in various historical times), on the study of regional sculpture of Kalymnos (marble statues from a "deposit" near the temple of Apollo Dalios), as well as the on the corpora of inscriptions from Kos and Kalymnos (Inscriptiones Graecae).
Since 2018 in collaboration with the Archaeological Service of Larisa conducts the research project "Krannon" (a systematic excavation at ancient Krannon in Thessaly).
Lectures – Congresses: He has offered papers at International Symposia and lectures in various Universities of Europe (Oslo, Uppsala, Marburg, Berlin Humboldt, Basel, Oxford) and Institutions (AIAS Rhodes, Brandemburgische Akademie der Wissenschaften / Berlin (Inscriptiones Graecae), German Archaeological Institut of Athens (DAI), Institute of Historical Research, Section of Greek and Roman Antiquity (Athens), Roman Seminar (Athens), Archaeological Society and Free University at Athens).
Publications: He has published a lot of excavation reports in Deltion, and more than 20 articles in international magazines and essays in international exhibitions catalogues, mostly in Greek (also transl. in English) and German, and three books entitled: Ανέκδοτες Επιγραφές της Κω. Επιτύμβια μνημεία και όροι (transl. Unedited Grave-Inscriptions and Horoi from Kos), Αθήνα 2008, ENΘΕΤΤΑΛΙΖΕΣΘΑΙ. Tεχνοτροπία και ιδεολογία των θεσσαλικών επιτυμβίων αναγλύφων του 5ου και 4ου αι. π.Χ. (transl. BECOMING A THESSALIAN. Defining styles and ideologies of classical thessalian grave reliefs (5th-4th c. BC), with an extensive german summary), Βόλος 2013, Το Ασκληπιείο της Κω. Το μνημείο και η επιγραφική συλλογή (transl. The Asklepieion of Kos. The monument and the epigraphical collection), Aθήνα 2014. One additional book is in press Kατηφείη και Όνειδος. Ταπεινωμένοι και Καταφρονεμένοι Νεκροί, Αθήνα 2019 ("Humiliated and Insulted Dead").
He is also co-editor with Klaus Hallof in 4 volumes of Inscriptiones Graecae, including inscriptions of Kos (IG XII, 4, 1 (2010), IG XII, 4, 2 (2012), IG XII, 4,3 (2016), IG XII, 4, 4 (2018).
Several of his publications have been internationally recognized and have become reference studies in their field.
Member of Scientific Societies – Advisory Board of Periodicals: He is correspondant member of the German Archaeological Institute.
He is also member of the advisory board of Greek and foreign scientific periodicals,  Thiasos, Logeion, Ariadne, Tekmeria.
Languages: German, French, English, Italian and Portuguese.