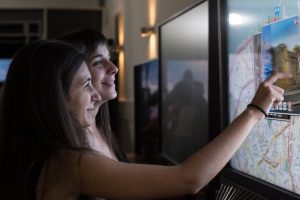 The Erasmus exchange program was founded in 1987 and was renamed 'Erasmus+' in 2014. This program, which constitutes one of the most famous activities of the European Union, operates within the Erasmus Charter of Higher Education (ECHE) and enables the mobility of students across European universities for a semester of study. Apart from the obvious academic benefits, the mobility of students across European Universities promotes intercultural exchange and the construction of a common European identity. The participant universities operate in the countries of the European Union, as well as in certain other countries with which bilateral agreements have been signed.
The program enables students of the Department of History & Archaeology to move for one academic semester into a department abroad, with which the Department of History & Archaeology has signed a bilateral agreement.
Students studying abroad through an Erasmus+ program select modules, whose total workload equals 30 ECTS units per study semester. The modules which students complete successfully during their study abroad period are accredited as modules of their academic curriculum in our Department.
Students wishing to move abroad through the Erasmus+ program are selected on the basis of their linguistic skills and academic performance. Priority is given to postgraduate students over undergraduates.
Information regarding the Erasmus+ program may be found at the website of the Department of International and Public Relations, University of Crete
Austria
Universität Salzburg
Belgium
Université Catholique de Louvain
Cyprus
University of Cyprus
Czech Republic
Masaryk University
France
Université Lumière Lyon 2
Université Paris Diderot
Universite Paris I Pantheon- Sorbonne
Université Paris X, Nanterre
Université de Provence
Université de Rouen
Germany
Freie Universität Berlin
Goethe Universität Frankfurt am Main
Humboldt Universität
Universität Heidelberg
Universität Leipzig
Italy
Universita degli Studi di Cassino e del Lazio Meridionale
Università degli Studi di Catania
Università degli Studi della Campania "Luigi Vanvitelli"
Università degli Studi di Napoli "L'Orientale"
Universita degli Studi di Padova
Universita degli Studi di Siena
Università degli Studi Suor Orsola Benincasa (Napoli)
Università degli Studi della Tuscia
Università degli Studi di Torino
Universita degli Studi di Verona
Lithuania
Vilnius Universitetas
Poland
Uniwersytet Wroclawski
Spain
Universidad de Granada
Universidad Complutense de Madrid
Universidad Autònoma de Madrid
Universidad Autònoma de Barcelona
Turkey
Boǧaziçi Üniversitesi
İzmir Demokrasi Üniversitesi
Muğla Üniversitesi
UK
University of Reading
University of Sheffield
University of York
Departmental Erasmus+ Coordinator & Meeting Hours