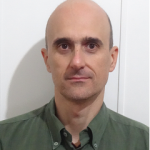 Associate Professor of Ottoman History
E-mail: anastasopoulos[at]uoc[dot]gr
Office No.: 78
Telephone: (+30) 2831077368
Office hours: Monday, 13.30-14.30 and Tuesday, 11.30-13.30
Extended CV: Click here
Antonis Anastassopoulos was born in Athens in 1969. He studied History and Archaeology at the National and Kapodistrian University of Athens. He completed his M.Phil. and doctoral studies at the University of Cambridge, Faculty of Oriental Studies. He has been teaching Ottoman history at the Department of History and Archeology of the University of Crete since 1999, and is also affiliated with the Institute for Mediterranean Studies of the Foundation for Research and Technology-Hellas. In January 2010 he taught a cycle of four seminars at the École Pratique des Hautes Études, Section des Sciences Historiques et Philologiques, in Paris, and in the spring semester of the academic year 2015-2016 he taught Greek and Balkan History at the Department of History of the Boğaziçi University in Istanbul. He has edited or co-edited five volumes of collected essays, and has published more than 30 articles in academic journals, collective volumes and encyclopaedias.
Research interests: Τhe Ottoman provinces with an emphasis on political relations in the eighteenth century; Islamic tombstones of the Ottoman period; history of water management.
Links: 
Recent publications:
Antonis Anastasopoulos and Yannis Spyropoulos, 'Soldiers on an Ottoman Island: The Janissaries of Crete, Eighteenth-Early Nineteenth Centuries', Turkish Historical Review, 8 (2017), 1-33.
Antonis Anastasopoulos, 'Girit'teki Osmanlı Mezar Taşları' [Ottoman Tombstones on Crete], in A. Nükhet Adıyeke και Tuncay Ercan Sepetcioğlu (eds), Geçmişten Günümüze Girit. Tarih, Toplum, Kültür. Uluslararası Sempozyum. Bildiri Kitabı. 16/17/18 Ekim 2015, Kuşadası [Crete from the past to our day: history, society, culture. International symposium – Papers, 16, 17, 18 October 2015, Kuşadası], Kuşadası Belediyesi Yayınları, 2017, 355-369.
Antonis Anastasopoulos and Eleni Gara, 'The Rural Hinterland of Karaferye: Settlements, Divisions, and the Çiftlik Phenomenon (Seventeenth-Eighteenth Centuries)', in Elias Kolovos (ed.), Ottoman Rural Societies and Economies. Halcyon Days in Crete VIII. A Symposium Held in Rethymno, 13-15 January 2012, Rethymno: Crete University Press, 2015, 261-291.
Antonis Anastasopoulos, 'A'yân', 'Crète (xviie-xviiie siècles)': entries in François Georgeon, Nicolas Vatin and Gilles Veinstein, with the collaboration of Elisabetta Borromeo (eds), Dictionnaire de l'Empire ottoman, Paris: Fayard, 2015, 137-139, 309-311.
Antonis Anastasopoulos, Marilena Bali, Robin Durand, Yannis Lambrakis, Iordanis Panagiotidis, Stelios Parlamas,  «Οθωμανικές μουσουλμανικές επιτύμβιες στήλες Ηρακλείου: στήλες που φυλάσσονται στη «Βίλα Αριάδνη» στην Κνωσό» [Ottoman Islamic gravestones in Heraklion: gravestones at the 'Villa Ariadne' in Knossos], Κρητικά Χρονικά [Kretika Chronika], 35 (2015), 153-210.